Alchemy means transformation from the inside out. If you're my client, I use hypnosis as alchemy. In in client sessions, I consider those two words interchangeable. Both describe a focus on some golden opportunity that's present, even if hidden, in your current situation.
If you want to clarify and anchor your future goals, you're asking for hypnosis as alchemy.  If you want to break free from some of your habits, that's alchemy, too. If you want to live more fully in the present, alchemy's a powerful way to get here. If  you want to use language of hypnosis to help you re-frame your attitudes about your past experience, this work helps you make new dreams come true.
Hypnosis opens a way of looking at your circumstances from a different angle, a shift in thinking that can help you make the changes you, yourself, genuinely want to make.
I'm a member of The National Guild of Hypnotists, certified to use hypnosis and trained to work in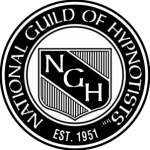 ways which ensure that my clients' deeply-felt goals are also the goals of each hypnosis session. As my hypnosis client, you'll discover it's a process of waging inner peace with language, which allows for everything else to begin to fall into place. The work can show you a way out of feeling stuck, offer a route out of confusion,  strengthen or restructure a foundation, provide a safe harbor in times of grief.
Hypnosis as alchemy: it's a metaphor for positive change from the inside out. This work is available in a single session format, but most of my clients prefer the results achieved in a series of sessions.Are you ready for change? Contact me for a short, free consultation. Together we'll see if the alchemy called hypnosis is right for you.
"This work is really powerful." ~ Katherine H., Brooklyn NY.