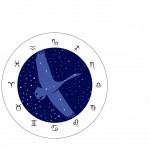 Out in space, you'll find the constellation Cygnus the Swan soaring through the stars of the Milky Way. In the Jordan Center logo, she sails through stars, and at the center of the circle of the astrological zodiac.
Ancient wisdom recognized her as a celestial guide whose job was to direct souls safely to their right place, when entering, or leaving, the earth plane. We still had cultural remnants in northern Europe of Cygnus as midwife well into the 20th century, though her roles had been assigned to other birds: the stork who brought the babies, and Mother Goose, who taught the babies cultural wisdom in rhyme and story when they were still very small.
I first "met" Cygnus in the clear night sky over the Orkney Islands north of mainland Scotland, and I make it a point to welcome her back to the night sky over my world every summer. After I chose her image as the center of my logo, she's continued to make her mark on me. Now she's prompted me to introduce her to my world — and maybe yours — in her guise as Grandma Blue Swan, Speaker for the Star People. Align that with my sense of being a ,  lover and teacher of myth, folklore, and astrology; a shamanic explorer of the Inner landscape, a teller of tales, a raiser of questions, and I can promise an exciting, expansive and enriching time ahead.
In January 2019 we'll start the adventure with Story Time with Grandma Blue Swan. 
By the way, that's Grandma Blue Swan, not the honorific Grandmother. I'm a mainstream-American Irish-English Elder and Cygnus is an archetype, neither with any intention of parading as a member of a traditional tribal community.