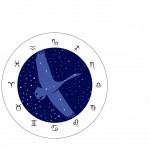 Ancient wisdom recognized the constellation Cygnus the Swan as a celestial guide. Her job was to direct souls safely to their right place, whether entering, or leaving, the earth plane. Out in space, you'll find Cygnus soaring through the stars of the Milky Way. In the Jordan Center logo, she sails through stars at the center of the circle of the astrological zodiac.
Because she's also the one who sees us safely to our right place, she's also a powerful image for all members of the adoption triad.
Who's part of the adoption triad? Adoptees, whether searching for biological roots, or not. Birth mothers, birth fathers, and other family members of those surrendered for adoption. Adopting/adopted parents, siblings, grandparents, and other family members.